Commissioning a Painting in Oil Paint or Watercolor
"Paula's talent lies not only in her ability to generate an image on canvas but in her ability to capture the beauty from within each person/animal she paints. She painted the scene we had imagined but took it one step further."
Ma 16"x20" oil on canvas
"Dear Paula, I don't have words big enough to express my thanks to you for this incredible painting. It is a gift I and my family will cherish for all time. Thanks for all your hard work, for your eyes and hands that know how to turn life into art, and for being willing to stay with it, until it was "there". I hope a little bit of Ma stays with you. I can hear her asking me: "So, how's mine Paula? Oy..such a painting!"
You can commission a painting of a person, animal, group of people or a scene particularly special to you, such as a landscape, a home or a garden, either from photographs or from life.
The creation of a painting is an exciting process and the communication between us is very important. My goal is for you to enjoy both the process and the product.
The Process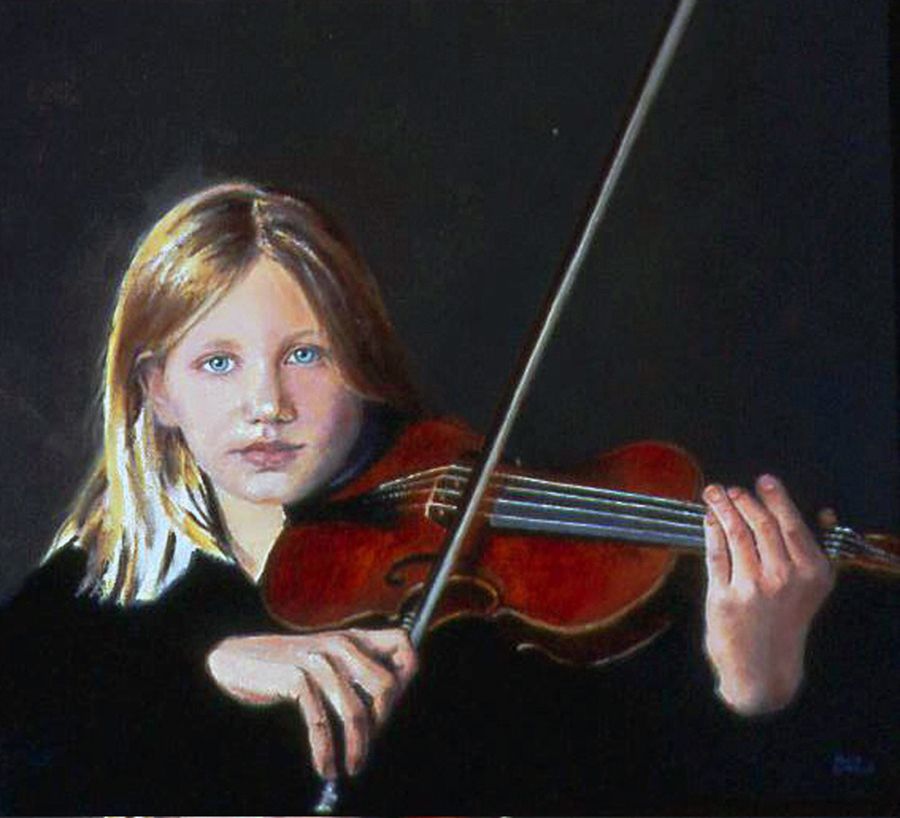 We schedule to meet for an initial consultation in my studio, at your home if you are within driving distance, or on the phone. At this time we will look at any photographs you may want me to work from. We can also schedule a potential photo shoot at this point. We will talk about size, medium, background, price and timing of the project, and any other concerns you have at this meeting. At the conclusion of the meeting we will create a contract. A deposit of $150. is required with the signing of the contract.
If I am to paint from life, we arrange a time and place. Generally this must be within about an hour's drive from my studio. The next step is for me to work on sketches based on our discussion and photos, present them to you in my studio or by e-mail, work with you about any changes, and get your approval to go ahead with the painting.
I then work on your painting. You will have an opportunity partway through to see what is happening and make comments about the direction the painting is going.
When I present the painting to you as complete, you may ask for one revision at no additional charge. Any further revisions are billed as below.

"Ty" 12"x18" oil on canvas
Sizes and Prices
| Size | One Subject (portrait) | Two Subjects (portrait | Three Subjects (portrait) |
| --- | --- | --- | --- |
| 11"x 14" | $1800 | $2100 | $2400 |
| 12" x 16" | $2000 | $2400 | $2800 |
| 14" x 16" | $2200 | $2600 | $2900 |
| 16" x 20" | $2800 | $3200 | $3600 |
| 22" x 28" | $3500 | $3900 | $4200 |
| 24" x 30" | $4000 | $4400 | $4800 |
| 24" x 36" | $4500 | $4900 | $5200 |
| 32" x 40" | $4900 | $5400 | $5900 |
| 36" x 48" | $7500 | $7900 | $8200 |
Other sizes are available and I can include more than three subjects in the larger size portraits.
Your choice of oil paint or watercolor.
Terms
Paintings can be shipped at your expense.
Other sizes are also available. Just ask me.
Revisions are billed at $60 per hour.
The balance is handled in one of two ways.
Either, the balance is divided into two payments; one at the completion of the sketches and one at the completion of the painting or monthly payments beginning at the signing of the contract can be arranged. All payment must be completed before or upon delivery.
Photo shoots are $200; the session usually lasts about an hour.
"Paula was a pleasure to work with. The finished portrait was so beautiful, it moved me to tears. My spouse was delighted with the painting and when asked to describe it used only one word: perfection." -